Vintage Barbie Collection 36 Dolls, Clothing, Accessories Excellent to Near Mint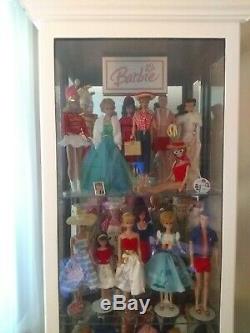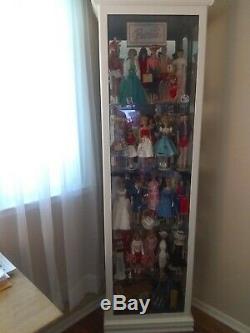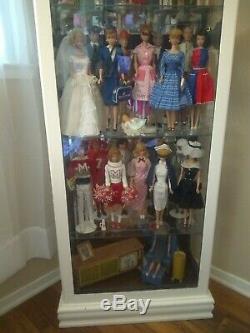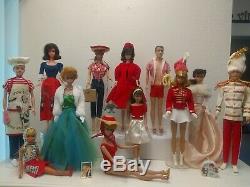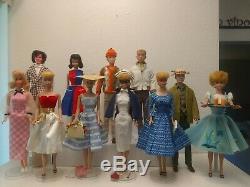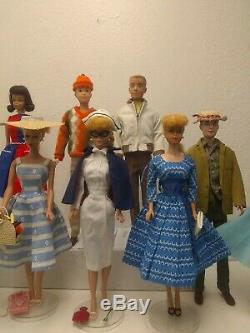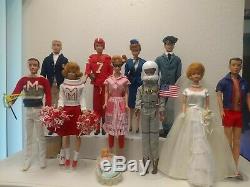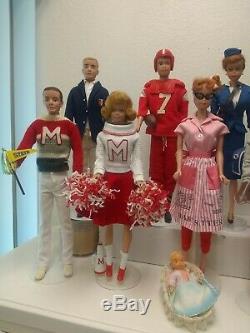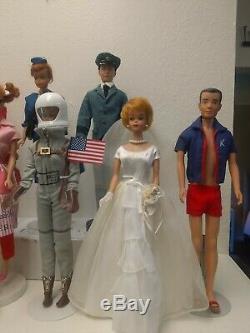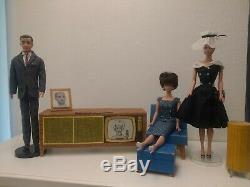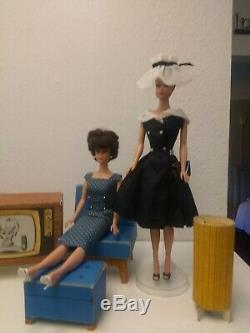 Welcome to my sale - this is my personal Vintage Barbie collection that I have lovingly assembled for several years. It consists of 36 dressed dolls that include Barbie, Ken, Midge, Allan, and Skipper. All dolls and clothing with the exception of one doll and one outfit are original vintage sixties and early seventies, all authentic Mattel. Many of the ensembles are complete.
Unless otherwise noted, all of the dolls and clothing are in excellent to near mint condition, free of damage, clean and odor-free, from my non-smoking home. Please read the descriptions, where I have done my best to provide details and issues to the best of my knowledge, and examine the photos, and don't hesitate to contact me if you have questions or need more information. The Dream House furniture is an added bonus.
The descriptions coordinate with the photos taken outside of the doll cabinet. Front Row - 1971 Malibu Skipper, JAPAN, Day at the Fair (1965), half of one snap on skirt needs reattaching, missing one flat red shoe; Blonde Bubble cut Barbie, Senior Prom (1963), Going to the Ball jacket (1964), no green OT heels; Blonde Bubble cut Barbie, red Helenca swimsuit, gold wedge sandals, Open Road straw hat (1961), red chiffon scarf needs to be reattached; 1964 straight leg Skipper, Silk n' Fancy (1964); 1963 Midge, Majorette(1964), no baton; 1962 Painted Hair Ken, Drum Major (1964), ball missing from top of baton. Group 2: Back Row - 1973 Mod Hair Ken in original outfit; 1963 Midge, Fancy Free (1963); Repro Allan with wrist tag, Roller Skate Date sweater and cap (1964); 1963 Painted Hair Ken, Windbreaker (1962), Fraternity Meeting slacks, brown and white loafers; 1963 Painted Hair Ken, Dreamboat (1961) complete. Front Row - 1973 Quick Curl Barbie, original dress, white pilgrim shoes; early #5 Ponytail, Silken Flame (1960), touch of green on earholes; early #5 Ponytail, Suburban Shopper (1959), no necklace; #6 Ponytail w/factory braid, Registered Nurse (1961), has hot water bottle and spoon; #6 Ponytail, Let's Dance blue version (1960), missing necklace, doll is missing pinky on right hand; White Ginger Bubble cut, Friday Night Date (1960) complete. Group 3: Back Row - 1962 Painted Hair Ken, Victory Dance Blazer (1964); 1964 Allan, Touchdown (1963), complete; 1964 Titian Swirl Barbie, American Airlines Stewardess (1961), complete, hair is restyled in updo and ponytail may have been cut; 1964 Painted Hair Ken, GUAG United Airlines Pilot (1973). Front Row - 1961 Flock Hair Ken, Campus Hero (1961); 1963 Midge, Cheerleader (1964), complete; 1963 Midge, Pak Body Blouse, Barbie Baby Sits (1965); has bassinet, liner, blanket, pillow, baby, diaper with pin, robe, bottle; 1964 Fashion Queen, Repro Miss Astronaut (orig 1965); Blonde Bubble cut, Bride's Dream (1963); 1965 Bend Leg Ken in original outfit. Group 4: 1962 Painted Hair Ken, Saturday Date (1961); Brunette Bubble cut, Sheath Dress in blue (1962); 1964 Fashion Queen Barbie (has JAPAN label on back of head, very unusual), After Five (1962); Stereo TV Console, blue chair and ottoman, lamp and framed "Ken" picture from Barbie's Original 1962 Dream House. The item "Vintage Barbie Collection 36 Dolls, Clothing, Accessories Excellent to Near Mint" is in sale since Saturday, June 1, 2019. This item is in the category "Dolls & Bears\Dolls\Barbie Vintage (Pre-1973)\Clothing & Accessories\Clothing". The seller is "vineyardsmaiden" and is located in Rohnert Park, California. This item can be shipped to United States.

---